HOLDING TANK PRODUCTS FOR INDIVIDUAL RVers
HOLDING TANK PRODUCTS FOR RESALE BY RETAILERS
SEPTIC/SEWER AND OTHER MAINTENANCE PRODUCTS
ACCESS GATES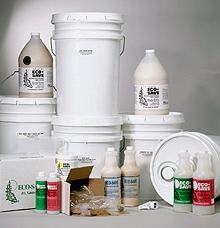 SEPTIC/SEWER AND OTHER MAINTENANCE PRODUCTS
The Solution for Maintenance of ALL TYPES OF SEWAGE/WASTE SYSTEMS.

ECO-SAVE Septic/Sewer contains bacterial strains that actually digest difficult compounds such as detergents, paper, oil, grease, phenols, hydrocarbons, etc. ECO-SAVE liquefies, digests solid wastes, residues and grease build up; leaving behind end products of carbon dioxide, water and a small residue of solids. ECO-SAVE enhances normal biological activity in all waste systems. Bacteria, unlike enzymes, continue to reproduce and work for you throughout the entire system. Extends life of the overall system.

Cost effective: One 25 lb. pail will last a 50 space RV Park/Campground two to three seasons, a mobile home park about one year. Unlike other brands, Eco-Save is used only when you really need it. Dosage not based on size of tank but on usage. Also available in smaller sizes.


ES-700
Concentrated dry bacteria for septic, sewer, lagoons, package plant treatment, lakes, etc. designed specifically to significantly improve performance in septic tanks, package plant and sewage treatment systems, lagoons, mound systems and, in some instances, city sewer lines. Works both anaerobically and aerobically. Combats chemicals introduced into the system.

25 lb. pail - treats typical 50 site campground/RV park for 3 camping seasons.
10 lb. bag
5 lb. bag
1.5 lb. bag - treats typical single septic tank for a family of four for 1 year, includes scoop.

ES-800
Concentrated grease eating dry bacteria, for use in restaurants & sewer lines with heavy grease loads. ES-800
is a unique bacteria formulation for use in special situations where sewer plants and lines have been getting heavier than normal loadings of grease products in the effluent stream. Works to clear grease from lines, lift stations, pumps and plants

25 lb. pail
10 lb. bag
5 lb. bag

ES-900
A unique formulation of Concentrated dry bacteria, for use in areas with ambient soil temperatures below 40 degrees Fahrenheit. Additional mixtures of Es-700 and ES-900 are available by special order for other climatic extremes.

25 lb. pail
10 lb. bag
5 lb. bag

Activated Charcoal Filters
3 inch, 4 inch and 6 inch.

Eco-Save liquid holding tank products &
Eco-Save Concentrate
For Cleaning, Odor Control, Spot and Stain Removal.  In addition to being used in RV holding tanks, Eco-Save liquid bacterial formulations are organic spot and stain removers for clothing, carpets, upholstery, drapes, etc.  They digest urine stains and odors and are also extremely useful as a cleaner especially in restrooms, bathhouses and dumpsters.  Very effective in removing blood, grass, and food stains, soap scum and mildew.  Eco-Save is USDA approved for use in federally inspected meat and poultry processing plants.

1 qt.
1 gallon
12 quart bottles per case
4 gallon bottles per case

ECO-SAVE PTT (Portable toilet treatment) Concentrate
The only ECO-SAVE product blue in color, this is a special liquid blend of bacteria and environmentally safe perfume for use in portable toilets. Industrial, concentrated strength. A little goes a long ways. Not suitable for use as a cleaner or stain remover because of dark blue dye.

1 qt.
1 gallon
1-5 gallon pail
4 gallon bottles per case

ECO-SAVE Vault Toilet Treatment Packages
A special method for treatment and cleaning of vault toilets. This system utilizes both dry and liquid ECO-SAVE products. Extremely effective in controlling odors, flies and waste build up in vault toilets and for cleaning them. Either Original Formula or Fragrance Enhanced liquid is available but price is slightly higher for the latter.

Eco-Save VT-5
Designed to treat 2 vault toilets for one camping season (five months).

Eco-Save VT- 25
Designed to treat 10 to 12 vault toilets for one camping season (five months).

ECO-SAVE Heavy Duty Cleaner and Solvent
Our only non-bacteria based product this wonderful product is a 100% natural organic biodegradable cleaner and solvent with a pleasant citrus odor designed for one step heavy duty cleaning. It contains no petroleum distillates. Use it for removing grease, oil, silicone, black streaks, tar, skid marks, pitch, adhesive, pan burns, paint from brushes and much more.

8 ounces bottles
23 bottles per case

ECO-SAVE LDF For Grease Traps:
Specifically designed for grease removal in restaurant lines, this liquid product is superior for grease and odor control. Injected with a metering pump or added manually. This liquid drain cleaner requires a one-time purchase of a pump.

5 gallon pail

Sprayers
For use on all Eco-Save quart bottles.